As a result of the building owner's direction, Chatswood Public Uniform Shop has vacated the location that most of you have come to know at 688 Pacific Highway (white building adjacent to the school car park). The Uniform Shop has been relocated back to Main Campus of the school, at a room opposite the school canteen, please see location in image below. Note that the opening times for the Uniform Shop remain unchanged.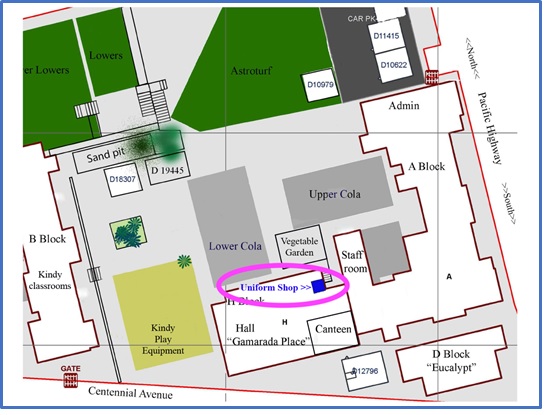 You may be aware that the school is being substantially rebuilt over the next few years. For that reason, space is a challenge around the school at the moment and some uniform shop stock has had to be moved to an off-site storage location, including all off-season uniforms and 2nd hand items.
On a practical level, only the current seasons' uniforms will be offered for sale at appropriate times of the year, both online and at the shop. Summer Uniform is worn in Terms 1 & 4 and Winter Uniform is worn in  Terms 2 & 3. Change over of seasons' stock will be notified in the newsletter towards the end of Term 1 and Term 3. Due to space constraints, we will not be able to respond to ad-hoc requests to purchase 2nd hand uniforms. 2nd hand uniforms will only be offered at flash sales at communicated set times in the school year. Accessories, school bags and other school necessities will be offered year round, both online and at the shop.
As a result of this relocation to a much smaller space, there will also be some changes to the way the Uniform Shop and the Online Uniform Shop will operate. Our policies will also be updated to reflect the current setup.
We ask for your full cooperation and patience especially during the first 2-3 weeks of the School Term which are very busy times at the Uniform Shop. We will endeavour to serve everyone in a timely manner, hence it is very important that everyone is clear with the policies and procedures with in-store purchases and appointments. We appreciate that this is a busy time and that this may result in some inconvenience and long waiting times. Wherever possible, please order online. We thank you for your patience. 
A full copy of our policies are located at https://chatswoodpublicpandc.org.au/shop/policies
For your reference, below is a summary of the Uniform Shop setup for the upcoming weeks:
Opening Hours
Week 1 (28-31 January) –
this week will be trading out of the School Hall
Tuesday 28 January 2020 (Development Day – Children Free Day) – 9am–3pm
Wednesday 29 January 2020 (Children's First School Day for 2019, Students in Years 1-6, Kindergarten Best Start) – 8am–3pm
Thursday 30 January 2020 – 8am–3pm
Week 2 (3-7 February) –
see Uniform Shop location on the map above
Monday 3 February 2020 – Kindergarten commences school) – 8am–12pm    
Tuesday 4 February 2020 – 8am–12pm
Wednesday 5 February 2020 – 8am–11am, 2pm–3.30pm
Week 3 onwards
Regular Uniform Shop Opening Hours (to be accessed)
Tuesdays – 8am–12pm
Wednesdays – 8am–11am, 2pm–3.30pm
Location of Uniform Shop
Room opposite the Main Campus School Canteen (see location on map (above). (There are some changes to the first week of trading at the School Hall).
Booking Appointments
Appointments can be made using the booking calendar.  The booking calendar can be accessed at https://chatswoodpublicpandc.org.au/shop/fitting-booking/
Full Uniform fittings require an appointment.
Appointments take approximately 20 minutes with a dedicated Uniform Shop member. This is to assist parents with items that are required for the relevant school year, to help confirm sizes of all clothing items and to answer any questions regarding uniforms and/or other essential items for the school year. The chosen items will be packed and ready for purchase at the fitting appointment or can be purchased via our Online Uniform Shop at your own convenience (if preferred).
Online Uniform Shop
The Online Uniform Shop, the Online Shop will be closed temporarily for maintenance to allow for these recent changes and will be back online on Saturday, 25th January 2020. http://chatswoodpublicpandc.org.au/shop
Options for Collection / Delivery of online orders – 3 options (Some are NEW!)
Collection from the Uniform Shop during scheduled opening times – no appointment is required ("Click and Collect").

An email will be sent out to advise when the order is "Ready for collection". (Do not come to the Uniform Shop for collection of online orders until this email has been received). We need to get your purchase(s) ready for your collection. When picking up your online order, please do not stand in the queue. Go straight to the desk counter and wait for assistance.
Deliver to your child's classroom – deliveries to be made on Wednesdays only.

Order by 10am Wednesday for processing in the same week. Orders received after this time will be delivered the following Wednesday. Whilst every effort is taken to ensure that the items are delivered, the Uniform Shop cannot be held responsible for any items lost in transit – no charge for this option.
Australia Post Parcel Satchel with tracking delivery to a nominated address.
Cost to be paid by purchaser, added at order check-out. Whilst every effort is taken to ensure that the items are delivered, the Uniform Shop cannot be held responsible for any items lost or stolen, claims must be made by the receiver to Australia Post in this instance. Delivery timing is dependent on delivery location and Australia Post.
In-store Purchases
In-store purchases can be made for 3 ITEMS OR LESS ONLY where trying on or fittings are not required (no assistance required, "pick-and-pay" type transactions).
"Click and Collect"/Pick up of Online Orders
Room opposite the Main Campus School Canteen (see location on map (above)
Returns Policy
We know it can be difficult to purchase the correct size for your child and that children can be particular about the uniform items they will wear, so we are happy to exchange or refund NEW Uniform Shop items. Returns must be made within 21 days from the receipted/invoiced date.
Item(s) must be unworn and unused with the original tags still attached. Item(s) must be in the original packaging which must be in original condition unless returning due to the product being faulty or damaged, or the product is not fit for its intended purpose. This includes any branded packaging, clear plastic bags. Without proof of purchase, no refund or exchanges will be offered.
All refunds and exchanges are to be processed using the original tender type. All returns and exchanges, purchased in-store or online can be either returned:
to the Uniform Shop in person OR
dropped at our PARCEL RETURNS SLOT at the Uniform Shop (see location on map). Items must be packaged securely and appropriately, accompanied by a Returns and Exchanges Authorisation (RA) form, which can be found on https://chatswoodpublicpandc.org.au/returns.
Returns that are bulky and are unable to be placed in the parcel returns slot located at the Uniform Shop door can only be returned in-person, during scheduled opening hours. If you have any specific questions or need assistance with your return, please email the Uniform Shop Team on [email protected]
Once your item(s) is received, you will be advised within 1 week on the status of your return. All refunds and exchanges must be approved by the Uniform Shop Manager and are at the discretion of the Uniform Shop Manager unless required by law.
In the interest of hygiene and raincoat material, please choose carefully as we do not offer exchanges or refunds on the purchase of hat, hair accessories and raincoats, unless exhibiting a genuine manufacturing fault, or where otherwise required by law.
For more information, please refer to the full copy of our Returns Policy located at
https://chatswoodpublicpandc.org.au/shop/policies
2nd Hand Uniforms
No ad-hoc requests or purchases. 2nd hand uniforms will only be offered as flash sales at communicated set times in the school year.
We want to reassure parents that if your child does not have a school uniform, this will not be a problem in the short-term, with appropriate mufti/casual clothing acceptable until uniforms can be purchased. While we encourage all children to wear a uniform, if possible, the most important thing is that we see your children at school, ready to start the new year.
We will keep you updated on the Uniform Shop operations through the school newsletter and also the Uniform Shop P&C website: https://chatswoodpublicpandc.org.au/shop
Thank you for your understanding and support.