Chatswood Public School P&C has engaged in positive discussions with the Department of Education for several years negotiating plans for genuine government investment in the school to add sufficient permanent classrooms to meet growing demand. Regrettably, in late 2016 the Department of Education indicated that there is no longer any intention to add permanent capacity to Chatswood Public School, and instead have suggested that they will redraw catchment boundaries to address the overcrowding at the school. The Department expects changing catchments will send more students south west to Mowbray Public School, or north west to the UTS Lindfield site (under development).
The vast majority of our students live east of the school, and it seems unlikely many parents will choose to send their kids directly past Chatswood School to one of these other schools further away. Schools to the east and south of Chatswood are already themselves overcrowded and would not be able to accept overflow from Chatswood.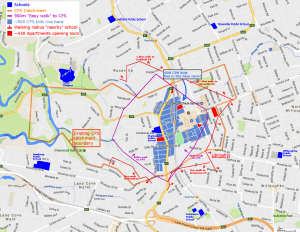 Chatswood Public School Overcrowding Stats
ENROLMENT [1]
| | | |
| --- | --- | --- |
| Year | Enrolment | Growth |
| 2008 | 683 | |
| 2009 | 702 | 19 |
| 2010 | 730 | 28 |
| 2011 | 787 | 57 |
| 2012 | 853 | 66 |
| 2013 | 905 | 52 |
| 2014 | 930 | 25 |
| 2015 | 1080 | 150 |
| 2016 | 1190 | 110 |
| 2017 | [2] 1250 | 60 |
|  2018 | 1330 | 80 |
| 2019 | 1440 | 110 |
| 2020 | 1540 | 100 |
[1] The table shows student numbers each year, and forecasts numbers for 2017 to 2020 based on general growth and upcoming new apartment blocks opening.  The school grows about 4% each year, plus one new student per 5 new apartments opening.
[2] 2017 forecast from past data was 1250.
Actual enrolment is 1249 as at Fri 24 Feb.
The North Sydney region and Willoughby City Council have a detailed plan for growth across the Willoughby region over the next 20 years.
The forecast population growth was 800 extra primary students from 2011 to 2026 across all Willoughby (incl. Chatswood, Artarmon etc).
Chatswood Public School alone has already increased by 460 kids since 2011.  Growth is substantially different from the forecast.
CLASSROOMS
There are 51 classes of kids.
The school has 52 classrooms in total, including …
22 classrooms are temporary / "demountable" classrooms.
4 demountable classrooms are in car parks.
We no longer have specialist rooms for art or music or computers.
There's no space for group development programs outside class groups.  Where will we do EALD (English as a second language)? Where will we do literacy support programs?
Environmental Education was created as a deliberately outdoor class because we have no classroom.
One demountable is still being provisioned.  Those kids are using the library as a classroom.

OTHER FACILITIES
"Bush Campus" land (11 temporary classrooms, years 3 and 4) is still only "on loan" to the school. It could be taken away any time. So we can't spend P&C (parent) money for improvements such as play equipment or a proper canteen.
The school hall only has capacity for 1/3 of the students at a time. We hold four separate assemblies.
Some playground areas (both campuses) only allow kids limited time access by roster on allotted days.
Recess and lunch times have to be staggered at main campus, because not all the kids fit in the playground at once. It's an organisational challenge for teachers and group activities.
During recess and lunch time there are up to 60 girls per toilet. Our current understanding is the recommended ratio is 18 girls per toilet.
We can no longer maintain any natural grass areas at either site. With too many kids the grass dies within months. The Bush Campus "meadow" play area is a dust site, and the green area between classrooms has worn through the grass and surfacing down to the infill.